Consulting
Welcome to your consultants, who will help you set up and maintain your integrated management system ( Quality (ISO 9001), Environment (ISO 14001), Safety and Health (ISO 45001)) and many other topics.
What is a management system?
If we have to describe in one sentence what a management system is, following definition will fit it best:

"A management system is a frame which has the task to record and make knowledge and knowhow available."

Lost knowledge gets very expensive for the organisation!

The process-oriented holistic approach eliminates errors and barriers between different departments/people in a well working management system. The necessary information is available, which prevents ineffective searches for the desired information. This effective way of working not only increases the quality of the company, but also increases the work ethic of the employees, which effects that they finish their tasks without distractions. Basic processes are automated that no significant external intervention is necessary. Resources can be used where they are actually needed.
An integrated management system combines the requirements of the different standard requirements (quality, environment, etc.) under a single system.
Why a management system?
early identification of divergencies
increase the knowledge and know-how in the organization
working automatism at general tasks
creating awareness for holistic thinking
fokus on the daily business
create a clear communication
be awared of the requirements of the external partner
advantages for the management
The management has a working centralized data system that can be used for various decisions. This saves time and costs, as decisions can be made on a better data basis. Goals, achievements and successes can easily be made measurable. The success of the organization is consequently no coincidence.


We support you with the integration of new business areas, the implementation of projects using PMO and with topics of strategic orientation of your company.

Do you have any questions or need more information? Do not hesitate to contact us, we look forward to your inquiry.
about us
Our interest in management consulting was aroused long before the company existed. By continuously increasing personal knowledge and experience, we ensure that the quality of Ö&K Consulting is guaranteed. With Ö&K Consulting Team you can rely on a team with many years of experience.
2008
Interest in management consulting was aroused. The foundation was laid for Ö&K Consulting.
2008-2012
Deepening the knowlegde in management consulting during the study.
2012
Establishment of a quality management system according to ISO 9001 for the leading manufacturer of rail lubrication systems.
2013
First collective project of the founders.
2013-2020
Increasing knowledge about management consulting by consulting of various interested partners.
2020
Foundation of the company Ö&K Consulting
Approach
In order to be able to perform high-quality work, a good base of knowledge and complete conviction to the success of the task are required. We as the Ö&K Consulting Team feel obliged to always seek for progress to create a better tomorrow.
Vision
It is our vision that all parties involved create an adaptable system through visionary goal pursuit and by taking the necessary rationality into account. We always work on the pulse of time and with openness to criticism on the further development of this system. We also pay special attention to the environment and sustainable action as important basic principles.
Mission
We see it as our mission to focus on management systems that fully implement the continuous improvement approach and consequently increase the satisfaction of all parties involved. We want to realize our vision by offering our customers innovative solutions that meet all qualitative and normative requirements.
Values
Honest open communication and acting according to the principle "live and let live" are the cornerstones of all our business relationships.
The founder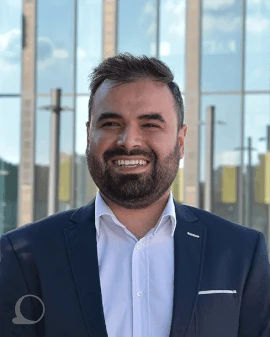 Emre ÖZ
TU Vienna, Mechanical Engineering - Management
Core skills
Medical Products
Automotive
ISO 9001
ISO 14001
ISO 45001
Contact
+43-676-634 96 61
emre.oez@oek-consulting.at
Social Media

Volkan Karabulut
TU Vienna, Mechanical Engineering - Management
Core skills
Automotive
Integration & PMO
ISO 9001
ISO 14001
ISO 45001
Contact
+43-664-402-16-78
volkan.karabulut@oek-consulting.at
Social Media

Contact
Vienna
Rainergasse 36/1
A-1050 Wien
St.Pölten
Löwenzahnweg 4
A-3140 St.Pölten